Bathroom conversations can be uncomfortable. We get it. It's a place of privacy. But it's time to open up. The reality is you spend a considerable amount of time in your bathroom every day. From showering and getting ready for the day to relaxing in the tub and sitting down to take a…break from the kids, this is one of the most important and most well-used rooms in the house.
Bathroom Renovation Idea Trends In 2022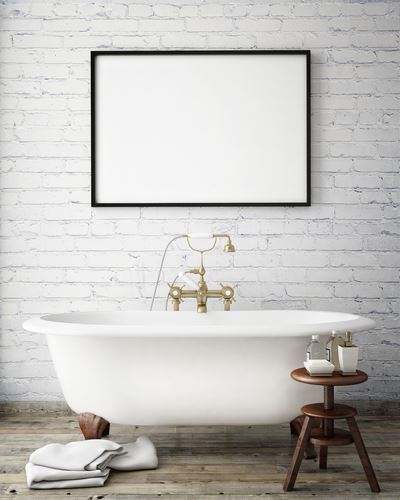 With so much use, the bathrooms in your home need to not only function well but also need to be space-efficient. While some have the luxury of bathroom space equal to the size of the master bedroom, most homeowners have very limited space to work with.
Getting creative with your design is often the key to transforming a bathroom from a place you tolerate to a space you love.
Here are some of the latest bathroom renovation trends of 2022!
Plants
Bringing nature into the home has been an increasingly popular trend in 2022, especially when it comes to bathroom renovation ideas. Plants in your bathroom can add be a dynamic addition that can create a spa-like aesthetic, another bathroom renovation trend in 2022. It even has air-purifying benefits, making it the perfect addition to your bathroom space.
Matt Black Features
Matt black is another increasingly popular bathroom trend in 2022. Adding black accents can really make other lighter-colored areas of your bathroom stand out, and create a sharp and modern-looking aesthetic.
Vintage Furniture
Vintage furniture is in more now than ever before, especially within a bathroom setting. Even the slightest pieces of vintage furniture can stand out and give your bathroom the aesthetic that you didn't even know you needed! Some vintage furniture ideas include vintage cabinets, a vintage jewelry holder, a vanity, an antique mirror, a vintage-looking basket, or vintage prints and photographs!
Stand-Out Wallpapers
Bold wallpapers are another very popular trend in 2022. Adding a wallpaper with bright colors can really accentuate even the simplest parts of your bathroom, and provide you with a new aesthetic. You could try adding a bold wallpaper behind your bathroom mirror, or behind where you place your towels. The ideas are endless.
Consider Professional Renovation Services
When deciding to renovate your bathroom, it's best to consult with a professional to ensure the job is done correctly. Not only is Centennial Kitchen and Bath up-to-date with the latest bathroom trends, but we also offer a variety of services from a team of qualified and professional renovators. Call the design team at Centennial Kitchen and Bath to start designing the best bathroom for you.