Electric Fireplaces In Saskatoon
Keeping Your Home Cozy
When people think about winter or the holidays, the image of them sitting by the fire with their loved ones always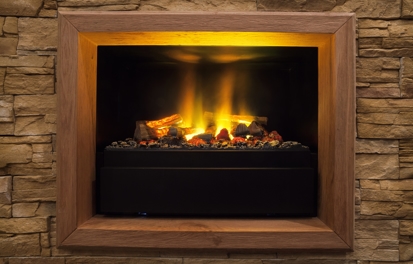 come up. However, installing and maintaining a real fireplace can be too much work and, not to mention, a huge investment. At Centennial Kitchen & Bath, our showroom includes a collection of electric fireplaces from one of the most innovative manufacturers of heating systems. From models with mantelpieces to units that are wall-mounted and integrated into media consoles, we offer several options of electric fireplaces to ensure comfort and satisfaction.
To learn more about our electric fireplaces in Saskatoon, visit our showroom or contact us at (306) 700-3277!
Why Choose An Electric Fireplace?
Electric fireplaces add warmth to a room and provide a realistic-looking alternative to gas or wood-burning heating systems. The perfect focal point or centerpiece to any home or room, electric fireplaces are also easy to operate and maintain—just plug it in and turn it on. Additionally, it is the safest choice for many homeowners as you don't have to worry about fumes or soot buildup.
Benefits of Electric Fireplaces:
Efficient and can lower your utility bills
Safe for apartments and other small spaces or rooms
No need for clean-up as it does not produce smoke or soot
Can be used year-round
Lack of gas or smoke fumes within the home
Can last significantly longer than standard heating systems
With sharp 3D images that mimic real flames, electric fireplaces can give you the coziness you are looking for without too much work.
100% Satisfaction Guaranteed
If you are interested in an electric fireplace in Saskatoon, let Centennial Kitchen & Bath help you. We can show you the different models that we have on-hand and guide you through your options. Our team can even demonstrate how these fireplaces work so you know exactly what you are getting.
Stop by our showroom today or call us at (306) 700-3277 for more information about Electric Fireplaces.
Exceptional Designs & High Quality Craftsmanship
See Pictures From Our Past Projects
I would recommend Centennial to anyone looking to refresh their kitchen or bathroom spaces.

- Nicole A

To Derrick, Tawnya and Henry,

Working with each of you has been a wonderful experience.

- Patti M.

Communication with Shannon was beyond my expectations, and the installers were very professional and friendly.

- Wendy

The workers were always on time, willing to accommodate my schedule, friendly, and knew their jobs like the back of their hand.

- Lisa S.

Friendly and courteous.

- Gwellar
Guiding You Through the Renovation Process
3 Steps to Make Home Renovations Easier