Saskatoon Kitchen Renovations
Quality Kitchen Renovating in Saskatoon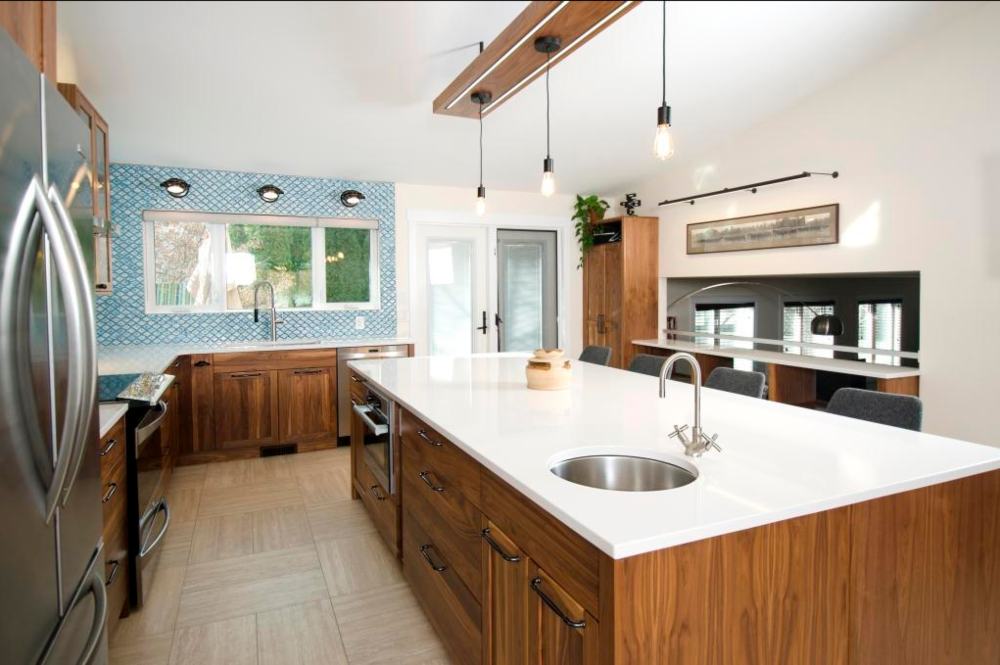 The kitchen is usually the center of every household. It's where families come together to share meals and quality time. Whether you're a passionate cook who wants a top-notch kitchen or you're someone looking for a polished design that complements the rest of your house, Centennial Kitchen & Bath can handle the renovation you're looking for. We've been around since 1967, and we've won numerous awards and accolades in our field.
Our Saskatoon kitchen renovation craftsmen take pride in the job they do and we try our best to make renovations as seamless as possible for every customer. When you're ready to move forward, we'll be here to get you started! Take a look at our client reviews and see we families in Saskatoon trust us with all of their kitchen renovations.
Don't hesitate to contact our office today at (306) 700-3277 with any questions you have regarding our kitchen renovations in Saskatoon.
Benefits of Kitchen Renovations
Renovating your home's kitchen can offer you and your family a number of great benefits. Not only can it enhance your kitchen's plumbing, and provide you with the kitchen of your dreams, but it can also increase energy efficiency and add tremendous value to your home.
Some of the benefits that come with a high-quality kitchen renovation include the following:
Cleans and declutters your space
Can add storage space in your kitchen
Improves sustainability
Adds safety to your kitchen
Increases comfort for you and your family
Increases the value of your home, so that you can sell it faster and at a higher price
Can save you money on your energy bill by improving lighting and increasing efficiency
If you are interested in learning more about the benefits that come with renovating your kitchen, don't hesitate to reach out to us! Our kitchen renovations team is available to answer all of your questions.
Elements of a Kitchen Renovation that Add Value to Your Home
If you're looking to add value to your home by undertaking a high-quality kitchen renovation, keep the following design elements in mind. While it's never guaranteed, these elements are most likely to drive increased home value when you renovate.
Kitchen Size: The size of the kitchen is one of the most important factors in determining the value it will add to your home. A larger kitchen will obviously be worth more than a smaller one, as it will be able to accommodate more people and have more storage space.
Kitchen Layout: The layout of the kitchen is also important in terms of both function and value. An open floor plan with a spacious island is ideal for entertaining, while a more traditional layout with a separate dining area can help to create a cozy and intimate atmosphere. If you are planning on selling your home, potential buyers will definitely take the layout of the kitchen into consideration.
High-End Appliances: Another element that can add value to your kitchen is high-end appliances. Stainless steel appliances are always in style and can help to make your kitchen look more modern and sleek.
Quartz or Stone Countertops: Quartz and granite countertops are another popular feature that can add value to your kitchen. They are durable, easy to maintain, and look luxurious.
Custom Cabinetry: Custom cabinetry can add both function and value to your kitchen. Custom cabinets can be designed to fit any space, which is perfect if you have an oddly shaped kitchen. They can also be designed to include features such as pull-out shelves and hidden compartments, which can make your life easier and help you keep your kitchen organized.
Trust Our Team With All Your Kitchen Renovation Services
As a locally-owned company, we take pride in providing superior service to Saskatoon and the surrounding areas. For over 50 years, we've aimed to simplify the kitchen renovation process so that our customers are left satisfied with our design and service.
You Can Expect The Following When You Work With Our Team:
Technicians who respect your home
Fair pricing with no surprise fees
A one-year warranty on renovations
Different financing options to make payment easier on you
Pleasant client-experience
Designers who accommodate your schedule
Technicians who do not sub-contract jobs
If you're looking for professional kitchen designers who are talented but also client-focused, you've found the right company. Our goal is to provide every customer with a high-quality renovation they're happy with. Let's get started!
Reach us today if you're looking for a professional Saskatoon kitchen renovation. We offer financing options and upfront pricing; contact us now at (306) 700-3277!
Guiding You Through the Renovation Process
3 Steps to Make Home Renovations Easier
I would recommend Centennial to anyone looking to refresh their kitchen or bathroom spaces.

- Nicole A

To Derrick, Tawnya and Henry,

Working with each of you has been a wonderful experience.

- Patti M.

Communication with Shannon was beyond my expectations, and the installers were very professional and friendly.

- Wendy

The workers were always on time, willing to accommodate my schedule, friendly, and knew their jobs like the back of their hand.

- Lisa S.

Friendly and courteous.

- Gwellar